As an author, Randy continues working on new projects.  Please stay tuned to this website for updates.
As a songwriter, Randy has written and composed the music for 6 CD's of his own, all available here.
As a voiceover artist, Randy's voice is heard around New England and nationwide representing a variety of companies and products.
As a columnist/blogger, Randy's contributions under the heading, The Singing Maine Guide, have been a part of the Northwoods Sporting Journal for the past 12 years.
For the past 20 years, Randy has been a full-time professional fishing guide in the Grand Lake Stream, Maine region.  In the off-season, he lives with his wife, Shelley, and their two British Springer Spaniels, Dakota and Tennyson, in Holden, Maine.   He has recorded the soundtracks for two documentary films: Song of the Drum, The Petroglyphs of Maine, andN'tolonapemk (Our Relatives Place), both of which have aired numerous times on public television.  He has also recorded and co-produced with Donald Soctomah, 3 CD song collections of Native Passamaquoddy music performed by tribal members.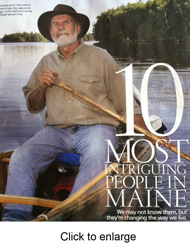 2005: Named by Portland Magazine one of the "10 Most Intriguing People in Maine."
2006: Named by Yankee Magazine "One of the 25 people you need to meet most this summer."
In addition to appearing on CBS Sunday Morning with Charles Osgood, on ESPN2 with Ron and Raven, and on Boston Channel 5's Chronicle, Randy was featured in a front page Wall Street Journal article in 2005.
Randy's first book, Where Cool Waters Flow, Four Seasons with a Master Maine Guide won the New England Outdoor Writers Associaton Best Book of 2010 award.
Randy's second book, Wide and Deep: Tales and Recollections from a Master Maine Fishing Guide was released April 1, 2014. It has won the New England Outdoor Writers Associaton Best Book of 2015, and national first prize from the Outdoor Writers of America for Best Book for General Audiences, 2015.